Ngumpi.com – Modern bathroom ideas include using large mirrors to amplify light and open up space. They also work well with a bold wallpaper print to create a statement feature in pint-sized bathrooms.
Adding Natural Materials to the Trending Bathroom
Adding natural materials like wood or stone to a contemporary bathroom is on-trend. Use them on walls and vanity tops, or as a wall-hung towel rack. Minimalist decor doesn't have to be boring! Add plenty of texture through materials like concrete, wood, and natural stone to keep a modern bathroom from feeling stark or sterile. In this bathroom from House Sprucing, subtle veining in the marble adds visual interest to an otherwise clean and simple room.
A minimalist bathroom should be easy to keep neat and tidy, which means incorporating smart storage solutions into the design. Consider using DIY or custom cabinetry that offers enclosed storage to minimize the appearance of clutter on countertops and to keep unsightly toiletries out of sight when not in use. Another way to keep a minimalist bathroom looking clean and organized is by choosing durable finishes for all the cabinetry and counters in the space. A durable material like quartzite is more versatile than marble, which can be prone to staining and requires more frequent upkeep. Keep a minimalist vibe by pairing the polished surface of quartzite with sleek hardware in black to create a coordinated look.
Modern bathroom ideas embrace clean lines and a lack of fussiness. But that doesn't mean you can't add a few touches of luxury to your space. Breegan Jane used a repeating circle motif throughout this bathroom—on the rounded windows, sconces, seating, and even the shape of the bathtub itself—to create a sense of calm and luxurious relaxation. A simple herringbone pattern on the floor can make a large room feel small. But this striped tile design from Tamsin Johnson also has a sleek, contemporary look that plays well with other elements in the room.
Popular Modern Bathroom Decoration Ideas
Adding an accent wall with wallpaper is a popular modern bathroom decorating idea, but be sure to use proper ventilation to ensure it won't peel when exposed to moisture. The bold leaf-print design on this bathroom wall by Toledo Geller is a great example of a high-impact print that's still functionally minimalist. Marble is a modern bathroom staple, and there are plenty of options for achieving this look no matter your budget. You can go big with marble slabs, as shown in this angular shower from Elizabeth Roberts, or bring the material in via tiles, like these from Tiles Direct (opens in new tab).
While modern bathroom decorating ideas often lean towards a sleek, fuss-free scheme, that doesn't mean you have to stick to monochrome. Instead, consider a bold accent color that brings character and interest to the room. Whether it's a mustard yellow (like in this contemporary bathroom by Eye for Pretty) or blush pink, these on-trend colors are perfect for adding a pop of personality to your space. Alternatively, opt for a metallic finish that's reminiscent of the industrial era, like rose gold. It's a trend that's been seen in trendy coffee shops and co-working spaces, so it will bring an instantly sophisticated feel to your bathroom. Adding metal features, like a sink faucet or towel racks, is an easy way to update your bathroom.
Using Plants to Add Greenery to a Bathroom
Another option is to create a natural look by using wood or stone. You could also use a plant to add greenery to your bathroom. This will help create a relaxing space where you can unwind and forget about your day-to-day stresses. Modern bathroom decorating ideas that are inviting include a warm color scheme that works with the rest of your home. Incorporate wood and natural elements like wicker baskets to create a beach-cottage feel, or add a skylight for a bright and airy look.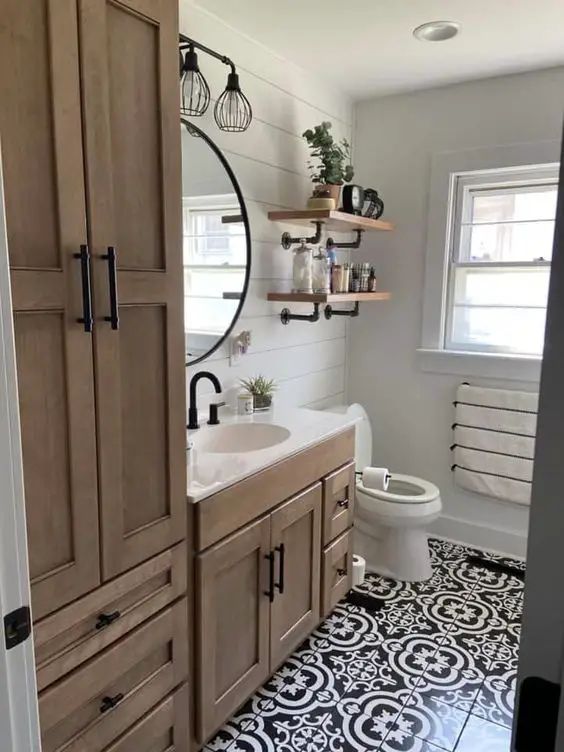 A soft lighting option is essential for a relaxing atmosphere, so install recessed lighting and use a dimmer switch to control the amount of light. Wall sconces can also add a touch of elegance to your space and provide task lighting. Avoid angular shapes and opt for curvaceous sanitaryware, such as the Plural Monoblock basin and Small table from Vitra (opens in new tab). Round contours offer a more organic feel than straight lines and are a welcome relief from sharp edges. We are happy to receive guest post submissions from you.