Ngumpi.com – Rustic living rooms are all about bringing natural elements into the design. This includes stone and wood – but it can also mean adding a touch of black and white.
Nature-Inspired Decorations for Living Room
Creating rustic living room decor doesn't need to be a challenge. You can simply highlight highlights of timber, add heavy wooden coffee tables and a few natural-tone chairs, plus decorations that are inspired by nature. A red brick wall is a classic look in many rustic living rooms. It brings warmth to the space and makes it a more inviting place to spend time.
In this room, the red brick wall is paired with a gray accent wall. The color balances out the red brick's look and adds a touch of urban style to this design. Wooden ceiling beams are a classic rustic element that can be used to create an attractive and comfortable living room. They add a lot of visual interest to the space and can easily fit any type of decor style.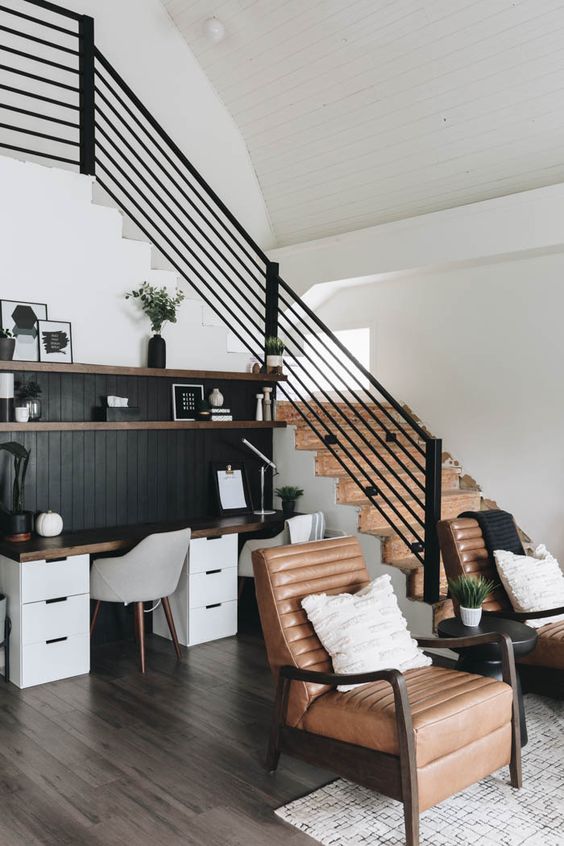 Exposed beams turn the structural aspects of a room into something that can be seen, and they help establish a 'frame' for the ceiling, which is often a problem in modern American homes. A simple black freestanding fireplace in a rustic living room creates a focal point and adds to the overall moodiness of the space. The simple outline of bricks around the firebox adds texture, while a reclaimed wood mantel contributes to the rustic look.
Creates the Perfect Atmosphere for Relaxing
If you want to make your fireplace more eye-catching, try arranging your furniture so it embraces the fire instead of avoiding it. This will help it stand out from the rest of the decor and make your room more welcoming to guests. A white chandelier is a great choice for a rustic living room. It's not too bright or overwhelming, but it still creates the perfect mood for relaxing. The living room is one of the most important parts of a house. It's where you spend time with your family and guests. There are many factors to consider when choosing a chandelier for your home. The main ones are the room size and ceiling height.  Brown sofa sets are often used in rustic designs. They create a cozy and welcoming feel.
However, they can also seem a bit dark and overwhelming if left unadorned. That's why it's best to layer up a collection of neutral throw pillows and cushions in tones that are a couple shades lighter than your sofa. Pair a brown sofa with earthy shades to create a warm and welcoming look. Olive green, terra-cotta and watery blue are all great examples of natural colors that work well with this color scheme.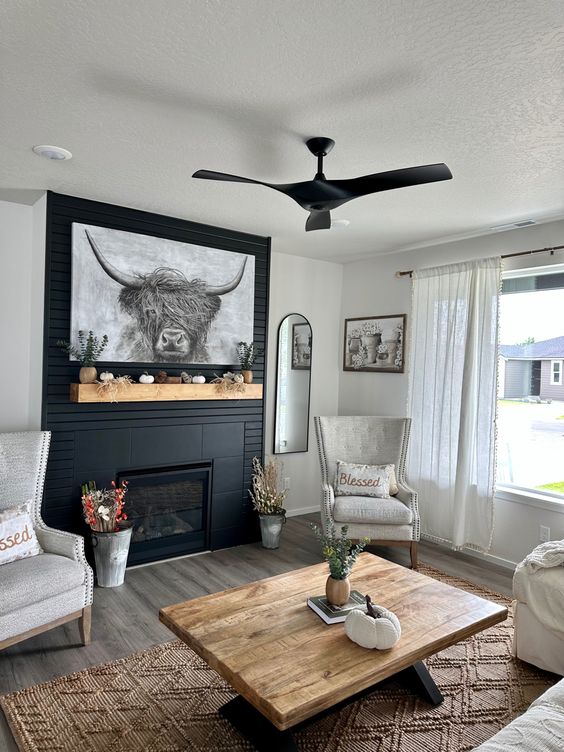 If you're looking to add a touch of rustic charm to your living room, try incorporating a brown leather cushioned sofa. These sofas come in a variety of shades and are ideal for any decor style. Leah Howatson from furniture brand Castlery says that brown leather sofas pair well with Scandinavian interior designs. She recommends using light hues to make the space feel brighter.
Added Potted Plants and a Wooden Coffee Table
"Styling a brown leather couch with green works especially well in nature-inspired spaces," suggests Wynter. She also recommends adding potted plants and a wooden coffee table to achieve this look. The dark brown velvet sofa is a statement piece in this rustic living room. It's paired with an eclectic assortment of decor accents for a global-inspired look.
Choosing warm oak accessories accentuates the cosy country feel of this room. A pretty botanical-print wallpaper in shades of biscuit and cream gives the design a lighter feel, while warming accents of rust or bootle green create a natural-looking finish. This Rustic-style living room is given a nice background of light gray tiles of the flooring that complements the black entertainment cabinet and TV against a wooden wall. Facing this is a large L-shaped sectional sofa.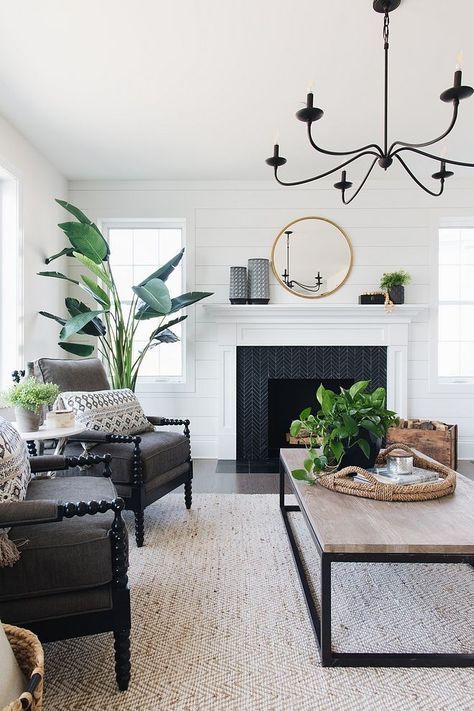 A black column of concrete is a unique addition to a rustic living room. Its color makes it stand out against the wall-mounted TV and dark brown entertainment cabinet. It's also the perfect place to display a beautiful piece of art. Whether it's a statue, sculpture or painting, displaying the most interesting item in your living room will definitely make it look great.