Ngumpi.com – Japanese interiors rely on a calming, Zen aesthetic. This serene design style is steeped in tradition and embodies the philosophies of ancient customs and a love for natural elements.
Design with Minimalist Furniture and Many Colors
A small Japanese dining room can be a great way to bring this peaceful style to your home. Designed with minimal furniture and plenty of colors derived from nature, it can be the perfect place to relax and meditate. Tables are an important part of a dining room. They serve as the focal point of the space and should be selected based on your lifestyle and decor preferences.
If you are looking to add Japanese elements to your dining room, consider buying furniture pieces made of natural wood. They complement both traditional and modern interior designs beautifully. You can also try incorporating Japanese flower vases in the design. These vases feature intricate patterns and small sizes, which make them perfect for accenting the tables in your space.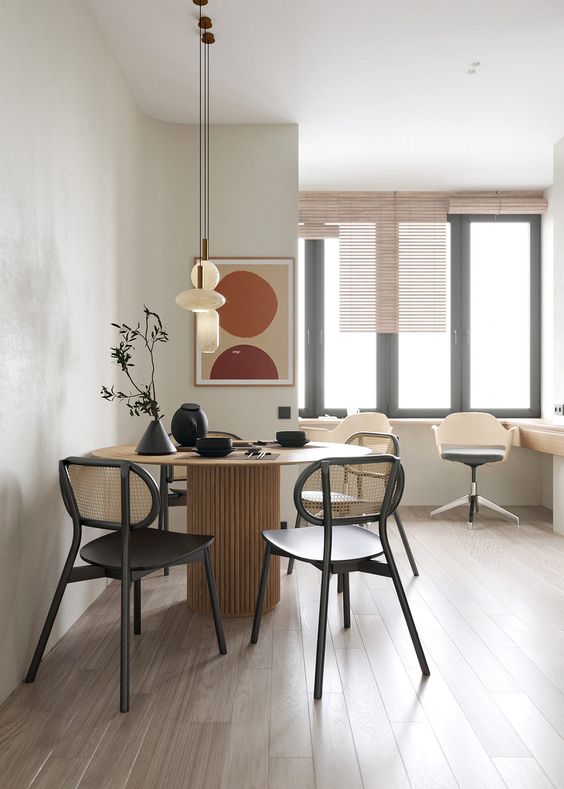 Another option is a low table, which is a popular choice for Japanese homes. This type of table can be used both indoors and outdoors, as it is recessed into the floor and can be tucked away when not in use. There are several types of low tables, including chabudai and horigotatsu. The chabudai engages the principles of Kanso (less is more); Fukinsei, (asymmetry in design); Shizen (natural versus artificial); Wabi-Sabi, (the beauty of imperfections); and Seijaku, (bringing stillness inside).
Creating a Warm and Cozy Space
Horigotatsu are low tables that feature a recessed floor beneath them for people to sit on. This can be a great option for a tatami room, as it allows people to sit on the floor without stepping on tatami mats. In a small Japanese dining room, you may want to choose chairs with low legs. This style is characteristic of traditional Japanese homes and allows you to create a warm, cozy space without overwhelming the room.
These chairs are available in a variety of colors and designs. They can also be found in different sizes to suit your specific needs. One of the most popular styles is the Japanese tatami chair. It's a classic example of the soft, earthy tones and rounded corners that are common in Japanese furniture decor. Another style is the zaisu chair, which features no legs and has comfortable seats and backrests. They are typically crafted from natural wood tones and lacquered finishes. Unlike Western chairs, they aren't padded with foam or springs to make them more comfortable. Instead, they are upholstered in a variety of materials including leather or fabric.
Aside from seating, Japanese chairs can also be used to display artwork or other decorative elements. They can be a great way to create visual interest and keep your room looking fresh and clean. There are many styles of chairs to choose from, so you'll be able to find the perfect match for your home's interior design theme. You can also pair them with wall hangings to add a touch of Japanese flair.
The Best Way to Add Comfort and Style
Floor cushions are a great way to add comfort and style to any room. They come in a variety of colors and patterns, and can be used for decoration or to provide extra seating when guests are visiting. If you're looking for a unique touch to your dining room, consider setting floor pillows around the table. These plush cushions are ideal for seating or lounging and can also be layered with other items to create a beautiful design scheme.
One option is to use a cushion that's similar to the Japanese zabuton, or sitting mat, found in temples and other Japanese settings. These rectangular cushions have a layer of cotton, foam or batting inside. They are usually made by hand and come in a variety of shapes and sizes to fit different needs. They are also available in a wide range of prices, so you can find something that fits your budget. They're also a great way to decorate your space with a unique Japanese element.
Whether you're looking for something to add comfort to your living room, or you're trying to add a bit of a rustic touch to your small Japanese dining room, a zabuton will look and feel amazing. You can even purchase high-quality ones made by traditional artisans like Takaokaya!