Ngumpi.com – Having a shabby chic bedroom will not only make you feel like you are on a vacation, but you will also be able to have a lot of fun decorating it. You can go crazy and add a lot of accessories to your room and even get creative and make your own patterned rug or hang a beautiful rose on the wall.
Bedroom Decoration with a Patterned Rug
Patterned rugs are a great way to bring pattern and color to your bedroom. They are an easy way to add visual interest to a room and can also help solve many decorating challenges. These versatile pieces are available in every size, shape, and color. Shabby chic bedrooms can incorporate a variety of patterned rugs. There are natural and floral patterns that look great with this style. However, you can also go for large-scale graphic patterns, which will be a hit in any room.
The best patterned rugs are made of wool or other natural fibers. These materials are durable and warm. In addition, they are easier to clean. Adding a natural rug to your room will create a warm and cozy vibe. Another great option for a shabby chic bedroom is an off-beige rug with grey diamonds and circles. Its neutral colors work well with white furniture.
Another way to introduce patterns to your bedroom is by creating a dramatic focal point with a runner. Placed next to the bed, this rug is both stylish and functional. Shabby chic bedrooms feature a relaxed and romantic atmosphere. There are many ways to create this look. Some ideas include using white fabrics for draping. For a more modern approach, use black accents. You could even use an ornate electric candle holder.
Selection of Popular Shabby Chic Features
Using a frame over your bed is a great way to give your bedroom a shabby chic feel. A vintage frame is also perfect for displaying fabric or a fresh floral arrangement. Adding a window seat is another popular shabby chic feature. A window seat is the ideal place to sit and read. It can be incorporated into the windowsill, or built into a window. The design is typically simple and minimalist, but you can make it your own by choosing the exact style you want.
Another popular shabby chic feature is vintage luggage. You can find plenty of antique luggage that will complement your room perfectly. Other elements that you may want to consider adding to your shabby chic bedroom are patterned wallpaper, vintage curtains, a chandelier, and loose linens. In addition to the standard bedding, consider adding pillows.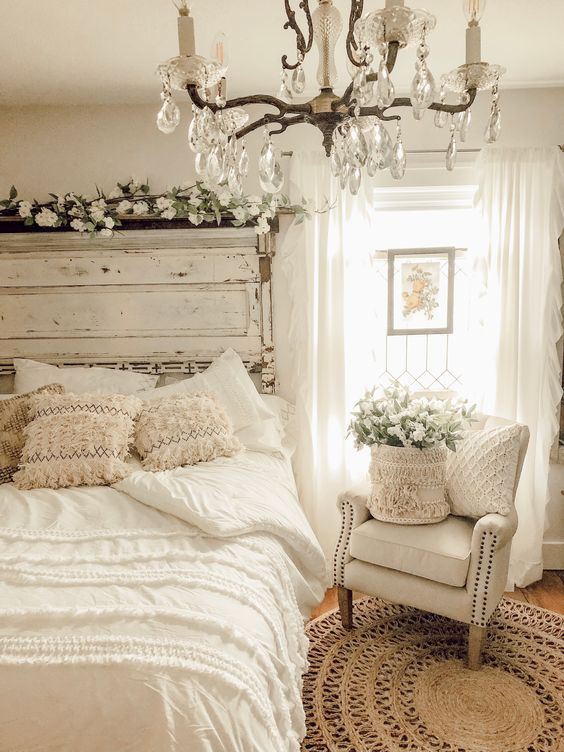 A faux taxidermy piece can make a statement in a small space. It's also a great way to add some warmth to your home. Faux taxidermy comes in a variety of sizes and colors, so you can find the right piece to fit your space. If you want to create an attention-grabbing centerpiece, you may consider using a moose, a deer, or a gazelle.
Add Some Unique Accessories for a Shabby Chic Bedroom
If you're more into the vintage look, you might opt for an antique-looking cabinet. Then, add a few unique accessories to tie everything together. You could opt for a vase of flowers, a set of vases with flowers, or even a pair of mirrored mosaic pillows. One of the most fun ways to implement taxidermy into your bedroom is with a bedside table. There are many options to choose from, including faux taxidermy and natural wood pieces. You can pick up a variety of unique pieces at your local home improvement store or antique store.
If you're looking to create a romantic bedroom, roses can be a great choice. Not only are they a classic decor element, but they also add a vintage flair to your bedspread. They're also a wonderful addition to a little girl's room. To give your bedroom a shabby chic look, you can use floral prints on the walls, pillows, and bedding. You can also incorporate contrasting pastel shades. For example, you can paint the walls a bright white and then layer a few pinks or blues on top.
Another way to add color and texture is to mix different fabrics. A linen throw draped across the foot of your bed can create a shabby chic look. The same can be done with a sheer curtain, which will let the moonlight shine through. Another way to add romance to your room is to add greenery. You can place real flowers, or faux ones, in a vase. Also, you can have fairy lights draped over a gauzy mosquito net for a soft lighting effect. We really appreciate and welcome guest post submissions from you.