Ngumpi.com – Whether you live in a studio apartment or a cozy home, the bedroom is a sanctuary to unwind and relax. Scandinavian-style decor can make a bedroom feel soothing and peaceful, so it's important to get it right!
A Simple Way to Warm up Scandi Schemes without Overdoing It
To achieve this, limit the color palette and layer on plenty of cozy textures and subtle patterns. Choosing an off-white shade is a simple way to warm up your Scandi scheme without overdoing it. A neutral wood bed or headboard can add a fresh, contemporary touch to your bedroom. However, be sure to choose a wooden headboard that doesn't overwhelm your room with color or detail.
If you're going for a more natural look, opt for a neutral wood bed frame in a lighter color like pine or driftwood. This way, it will blend into the rest of your decor rather than stand out. Another option is a upholstered headboard. These can be a great choice for a Scandinavian bedroom, as they will fit into a variety of decor styles and are typically available in a range of colors.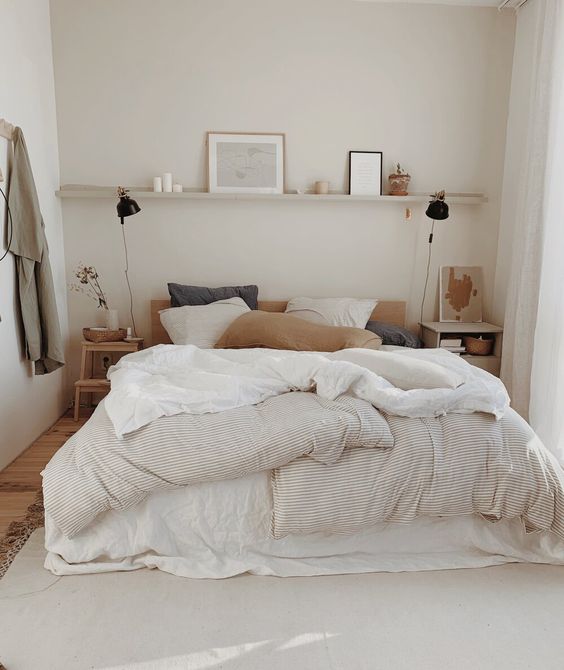 A non-toxic and natural wood bed is always an excellent option, especially if you're concerned about chemical emissions from paints or adhesives. But be aware that some companies use MDF, particleboard, or plywood instead of real wood, so look for a product with a no-VOC paint or natural oil finish to avoid harmful chemicals. When it comes to Scandinavian bedrooms, efficiency is a top priority. Choosing furniture that is designed to be used and easy to store means you can keep your room neat and tidy without cluttering up the space.
Essential Elements of Any Scandinavian Bedroom
The bed is an essential element of any Scandinavian bedroom, but you can also add storage to the room. Whether you're looking for a way to organize your nightwear or a place to display some art, a well-designed shelf unit can be just the ticket. This light and airy bedroom from Leanne Ford Interiors has painted white brick walls, vaulted wood ceilings, herringbone patterned wood floors, simple white bedding, statement lighting, and an antique gilded floor mirror that gives the space a sense of history.
Small bedrooms are often a personal spaces, so it's important to choose decor that makes you feel comfortable and happy. Thankfully, Scandinavian bedroom design ideas make it easy to create soothing sanctuaries that are built for rest and relaxation. Scandinavian bedrooms are known for their calming appeal, and that can be achieved by incorporating greenery into the room. Whether you go with real or faux greenery, it can make a great impact on your design.
The most effective way to add this look to your bedroom is to use a neutral color palette. Then, you can layer in various shades of tan, browns or gentle creams to soften the overall scheme. If you don't want to commit to a whole new paint color, consider using wallpaper in delicate Scandi-inspired prints. These will add a light, airy feel to the space without overwhelming it.
Helps Set the Mood and Tone in a Scandinavian Bedroom
You can also use rugs to help set the mood and tone in your Scandinavian bedroom. These can range in size, from small to large and feature different designs. They can be made of a variety of textures and materials such as wool, silk or other natural fibers. If you want to create an authentic Scandinavian bedroom that feels fresh and modern, opt for chairs with clean lines. Many of the designs from the golden era of Danish design are still available, including Alvar Aalto's stools that can be found at Apple stores, Louis Poulsen's PH series, and Arne Jacobsen's Egg chair.
The streamlined Scandinavian aesthetic is often paired with neutral colors that reflect natural light, but don't necessarily have to be white. Deep earth tones like slate blue, forest green, and stone gray can add depth without overpowering your room. Using wood floors can also help to enhance the Scandinavian look. Unlike wall-to-wall carpet, hardwood floors are easy to keep clean.
A soft, textured rug can give your bedroom a more inviting feel and provide a base for the rest of your decor. Adding wooden accents such as a coffee table, bench, or desk can add a touch of warmth to your space.