Ngumpi.com – Creating a beach-like office is not only a relaxing space but it also helps you become more engaged in your work. Therefore, it's important to choose the right style and decor for your workspace.
Creating the Perfect Beach Home Office
To create the perfect coastal home office, use colors that reflect beaches and seasides. You can try a palette of blue, aqua, and turquoise for a light and airy look. Navy accent walls add a classic, elegant look to any home. They can also create a calm, relaxing space that is perfect for reading and working.
In this nautical home office, a dark blue wallpaper with white sailboat drawings is paired with a navy swivel chair and built-in bookshelves to the side. A brass task lamp and coral accents help to pull this room together. Benjamin Moore Hale Navy is a designer favorite and looks fantastic in this home office. It's not too loud and doesn't overpower other colors like some blue-grays can.
Whether you're looking to add the latest in modern home decor or you simply want to give your office a nautical makeover, you can't go wrong with a framed beach print. Not only do they look great, but they also help create a calming atmosphere and inspire creativity. The best part is that you can choose from an array of beach-themed art pieces to suit your tastes and budget.
Decorating a Beautiful Beach-Inspired Home Office
If you're looking to decorate a large space, you can also consider canvas prints for the best value. With a few tricks up your sleeve, you'll be well on your way to decorating a seaside-inspired office that is as chic as it is functional. From framed beach prints to wall shelves to the right lighting, you'll be well on your way before you know it.
Nautical accessories bring a fun, relaxed feeling to your home. They are also a great way to add a little personality to your home office. Whether you choose to paint your walls navy or simply use temporary wall decals with sea or boat-inspired designs, it's an easy way to bring a nautical vibe into your workspace.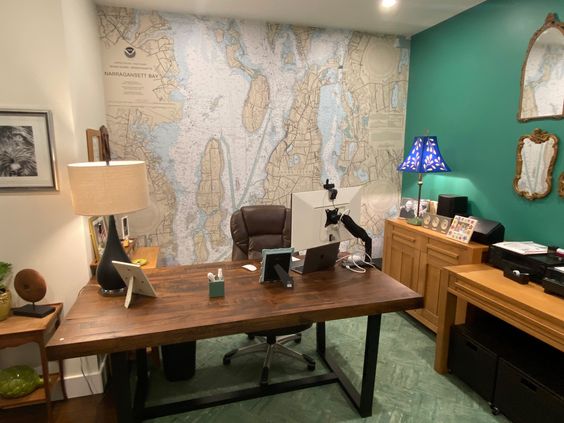 Another popular nautical decor element is rope decorations. These look beautiful when framed and displayed on a wall, as tray handles, spiral coasters, picture frames, cement doorstop handles, or wound around vases, planters, or suspended bathroom shelves. Sea glass is another popular nautical-style element. It can be framed and displayed on a feature wall or used to make door wreaths, gel candles, and epoxy resin trays.
Adds a Nautical Flair to a Home Office Space
Shell baskets are a great way to add a nautical flair to any home office space. They're also a stylish storage solution that will keep clutter out of sight. In Feng Shui, sea shells are considered lucky items, bringing wealth and enhancing family relationships. They also have a soothing, healing effect on your body, helping you relax and relieve stress.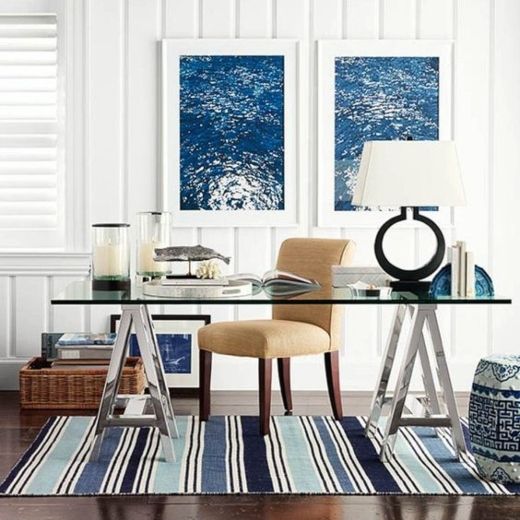 You can use these baskets for a variety of purposes, whether it's to store miscellaneous items or potted plants in the living room or bedroom. They're made of natural seagrass and recycled paper ropes for a sustainable look that will match almost any decor style. They come in two sizes, so you can choose which one works best for your needs. They're a great way to spruce up your home without breaking the bank.